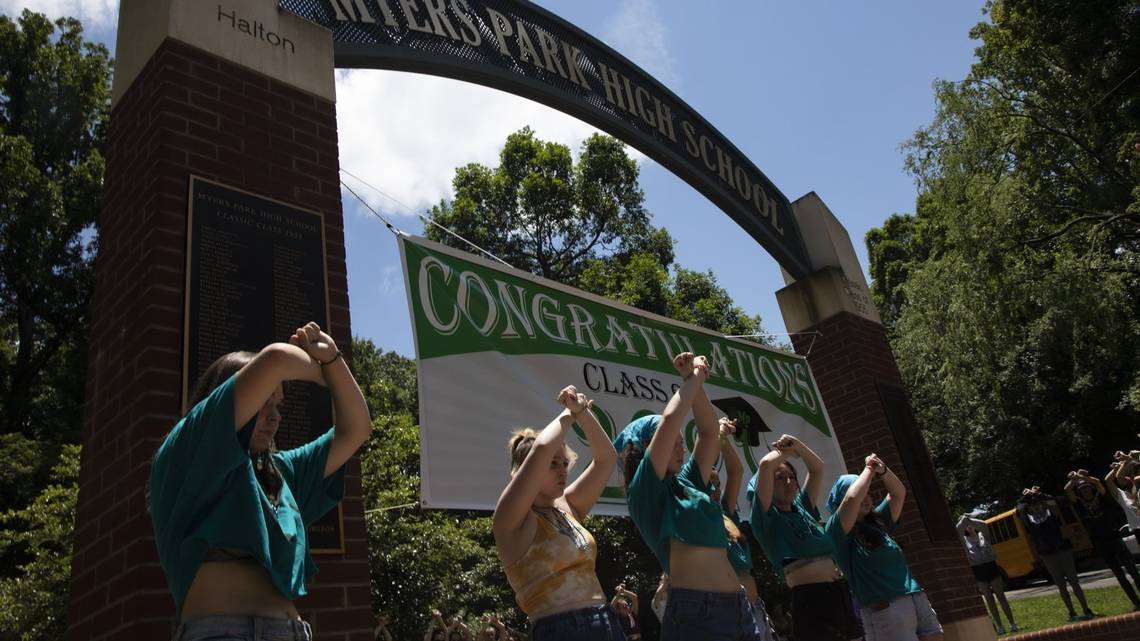 by Anna Maria Della Costa
JANUARY 18, 2023
Jane Doe's stepfather told a jury Tuesday his daughter was joyful, always smiling and had a friendly personality.
But when he arrived at Myers Park High School on Nov. 3, 2015, shortly after reports that Doe had been kidnapped and sexually assaulted, he saw a 17-year-old who looked defeated.
This story is a subscriber exclusive The stepfather, called Mr. Doe in court to protect his and Jane Doe's identities, was one of several witnesses plaintiffs called during the first day of the trial in North Carolina's Western District Court. The former Myers Park High student, who was a junior at the time of the assault, alleges school administrators and police mishandled her report of a sexual assault on campus in 2015.
U.S. District Judge Robert Conrad told jurors the case involves kidnapping and sexual assault allegations along with the alleged CMS violation of Title IX and the failure of school resource officer Bradley Leak, a Charlotte-Mecklenburg Police officer, to adequately investigate the allegations.
Jane Doe seeks compensation for damages that include physical and psychological pain, suffering, impairment, lost wages, loss of educational opportunity, attorneys fees, costs and "further relief that justice may require," according to the claim.
In court filings, school officials largely deny students' allegations. Doe's stepfather said during his testimony he also saw a stain on Doe's blue sweater and that her boots and backpack were muddy. During opening statements, Geraldine Sumter, an attorney for Doe, described her alleged sexual assault at the hands of an 18-year-old male who was a senior at Myers Park High at the time.
Two Cuban friends look back at goodbye gifts they exchanged 60 years ago He pushed Doe down on a fallen tree and forced her to perform oral sex on him so forcefully her "glasses were knocked off," Sumter said. Doe, sitting between her attorneys, looked down at the table during opening statements and throughout the trial Tuesday.
OTHER FORMER MYERS PARK STUDENTS TESTIFY, TOO
Plaintiffs called multiple witnesses who attended Myers Park High to establish that former school officials, including Leak, didn't take past allegations of sexual assault on the campus seriously.
Two witnesses testified former principal Mark Bosco told students during assemblies that "some people go into the woods and don't come back happy."
The claims still standing allege officials saw Doe being led into the woods on school property by an 18-year-old male student and didn't take "immediate" action. Around the same time, according to the lawsuit, Doe texted her mother and friends to say she was in danger. Within an hour, Doe says, she was picked up by the school resource officer near the woods, where she told him she had been sexually assaulted.
Doe alleges school officials dissuaded her from initiating a criminal investigation. The lawsuit states that CMS not only failed to address female students' reports of harassment at Myers Park High, but fostered a "hostile educational environment through a policy of deliberate indifference to known reports of sexual misconduct."
The lawsuit alleges CMS' policies were "inequitable and inadequate" and the district failed to provide training and education on Title IX to employees, students and parents.
Under a part of federal education law commonly referred to as Title IX, sexual violence on campus is considered a form of sex-based harassment, which federally funded school systems such as CMS are required to address when complaints arise.
The lawsuit claims the city of Charlotte and CMS failed to properly train their employees, including police officers working in schools, on how to report and respond to crimes of sexual assault. CMS had a duty to train its employees "on how to prevent and address crimes and related misconduct, such as abductions, rapes and sexual harassment" and comply with related constitutionally and federally protected rights," the lawsuit states. One witness, identified by the initials S.B. to protect her identity, cried while telling the court she had to report being sexually assaulted on campus. She testified she told Leak and an assistant principal at the school what happened, and that she was scared. "They told me it wouldn't be worth me telling the police because it would re-traumatize me," said S.B., who said she attended Myers Park High from fall 2014 and spring 2018. "They said the school would handle it and they would (do) a school protective order," S.B. said. "I never got paperwork." Attorneys for the defense pushed S.B. to acknowledge she dated the male student she went into the woods with. The girl said she didn't realize it would "go that far."
SCHOOL, CITY OFFICIALS DENY CLAIMS
The court already has dismissed all claims against Leak, CMS employee Anthony Perkins and former CMPD Chief Kerr Putney. Attorneys with the city of Charlotte and CMS argue their clients handled Doe's incident appropriately based on what Doe told school officials, the city's attorney, Lori Keeton, said during opening statements. Keeton told jurors that the way Leak handled it was "appropriate." "This was not a sexual assault," Keeton said of the incident Doe is suing over. CMS attorney Terry Wallace told jurors the alleged assault happened a mile away from Myers Park High's campus and not in the woods on campus. Wallace said school officials reacted appropriately after the incident. Doe's alleged attacker was suspended for 10 days while the investigation was ongoing, and the school also dropped the 18-year-old from a science class and lunch period he and Doe shared. Wallace said school officials also fast-tracked Doe's request to transfer to South Mecklenburg High.
WHAT'S NEXT
The civil trial moved swiftly Tuesday, with an eight-person jury selected before noon and opening statements wrapping up before 1 p.m. Conrad expects the trial to take a week, and Doe is expected to take the stand.
Read more at: https://www.charlotteobserver.com/news/local/crime/article271301777.html#storylink=cpy