BY MICHAEL GORDON
UPDATED OCTOBER 29, 2021 8:36 AM
As he talked with 911 operator, police approached his apartment. Then they shot him. SHARE Rueben Galindo, a Spanish speaker in Charlotte, N.C., called 911 Sept. 6, 2017. He said he had a gun he wanted to turn in. As a dispatcher spoke with him, police made their way to his front door with guns drawn. When he emerged, they shot and kill.
The family of a Charlotte father fatally shot in 2017 during a six-second confrontation with Charlotte-Mecklenburg police has appealed a federal judge's decision to dismiss the wrongful-death lawsuit filed against the officer involved.
In an emphatic 20-page ruling, U.S. District Judge Robert Conrad of Charlotte said Officer David Guerra acted reasonably — and legally — on Sept. 6, 2017, when he twice shot Ruben Galindo. The brief but lethal confrontation occurred outside an apartment near Sugar Creek Road and Interstate 85 where Galindo and his family had been staying.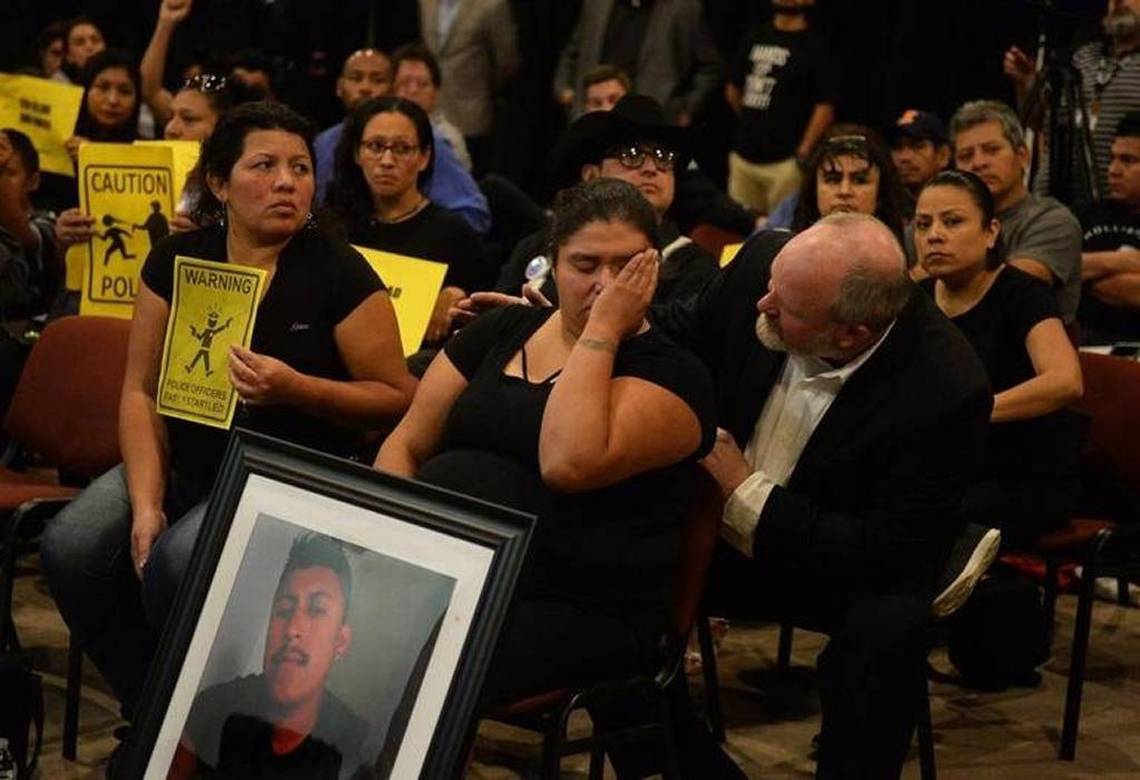 Ruben Galindo's widow, Azucena Zamorano, cries and is comforted by Pastor Rusty Price at a discussion of Galindo's shooting death between Charlotte-Mecklenburg police and the Latino community in October 2017. On Sept. 30, 2021, a federal judge dismissed her lawsuit against police and the city. Zamorano has filed an appeal. Diedra Laird [email protected]
Under U.S. Supreme Court precedent and North Carolina law, police are legally justified to use deadly force if they have a "reasonably objective" fear of imminent death or serious injury for themselves or others.
In throwing out the lawsuit filed by Galindo's partner, Azucena Zamorano Alemana, a month before it was to go to trial, Conrad ruled that Galindo's actions met the legal standard necessary for Guerra to kill him.
"The reasonableness test is objective, and this horrendous set of facts justifies the use of deadly force in the face of an imminent threat," Conrad wrote in his Sept. 30 ruling.
"Galindo's series of poor decisions — drinking to excess while possessing and carrying a .380 semi-automatic handgun, executing a bad plan of surrender, and exhibiting a complete inability or unwillingness to heed safety suggestions or law enforcement commands — all combined to create 'the tense, uncertain and rapidly evolving' circumstances which required split second officer decision-making of a kind that case law … instructs district courts not to second guess."
The judge gave little weight to written and oral arguments by the family's attorneys that challenged whether Galindo ever posed an imminent threat.
That included statements from two police officers at the scene who said that while Galindo had a gun at the time of the shooting, he held it upside down or pinched between his fingers and thumb and "not in a shooting grip."
Another CMPD officer who was standing near Guerra outside the apartment later told investigators he was "surprised" that Guerra shot Galindo, according to filings in the case.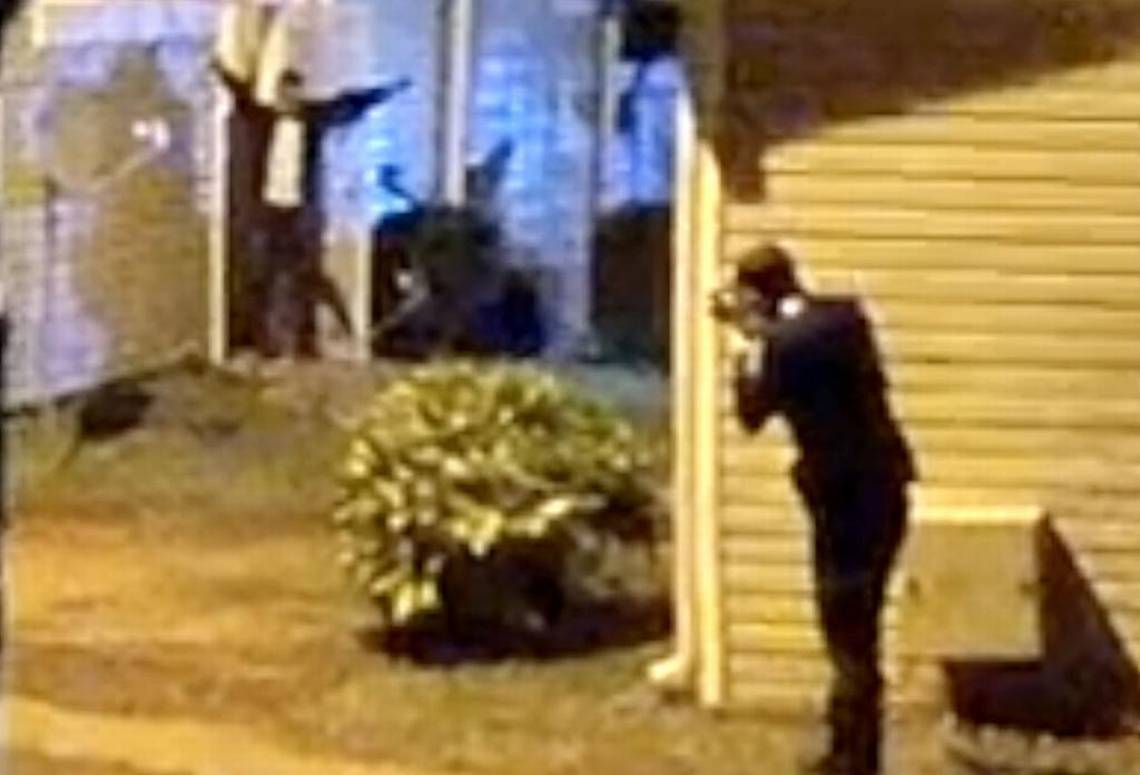 A Charlotte-Mecklenburg police officer takes aim at Ruben Galindo shortly before the 29-year-old was fatally shot on Sept. 6, 2017. Last month, a federal judge in Charlotte threw out the lawsuit filed by Galindo's partner, ruling that Officer David Guerra was legally justified to shoot Galindo. The family has filed an appeal. CMPD
Conrad's opinion also did not reflect one of the lawsuit's major allegations, namely, that Guerra opened fire on Galindo seconds after giving him orders even though he and his fellow officers had taken protected positions near buildings and were not in imminent danger, as the law requires.
Charlotte attorney Luke Largess, who filed the lawsuit for Zamorano, on Tuesday filed an appeal of Conrad's ruling to the Fourth Circuit Court of Appeals in Richmond, Va. The court — the country's second highest — handles cases from the Carolinas, Virginia, West Virginia and Maryland.
Largess told the Observer on Wednesday that he believes Conrad's ruling will be reversed.
Guerra's attorney, Lori Keeton, welcomed the judge's decision.
Her client, she said in a statement that first appeared in the Charlotte Ledger, "has devoted his life to serving others — first through his military service and now through his career as a police officer with CMPD. In this lawsuit, the Court properly concluded that Officer Guerra did not violate Mr. Galindo's rights."
Guerra, a former Marine who served in the Iraqi War, was hired by the Charlotte-Mecklenburg Police Department in 2013, remains on the force.